The golf course, designed by former U.S. Open Champion Jerry Pate, is rated by GolfDigest® as one of the best golf courses in Alabama. The 18-hole course opened in 1997 and boasts 6 holes bordering the lake.  Steelwood's Head Golf Professional is Shane Allen.
Golf Course Hours:
8:00am – 6:00pm
Wednesday – Monday (closed on Tuesdays)
Member Games:
Wednesday & Friday at 12 noon, Saturday at 9am
Ladies' Play:
Friday – Warm-up at 8:30am, Play at 9:00am
Reserve a Tee-Time, Plan a Golf Event or Schedule a Lesson: 
Contact the Pro Shop and speak with Shane Allen, (251) 964-7165, [email protected]
This course is perfect for corporate events, golf outings or special family gatherings. Call our team today for more details.
Teaching Center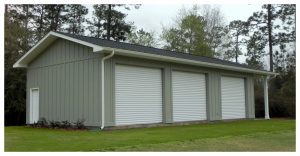 Steelwood's newest facility gives members and their guests the opportunity to practice and receive instruction in all weather conditions. The Teaching Center consists of three hitting bays, a club repair room, and a bathroom. A two-hole putting area is also located inside the building.
The center has a dual-camera instructional swing analysis center with a large flat screen TV monitor with V1 software which is considered one of the best instructional software programs in the golf industry.
The Teaching Center is open on a first-come, first-served basis. You can call the Pro Shop to reserve a bay at absolutely no cost. Golf lessons with Shane Allen or Zach Day are also available by appointment and may be reached at the Pro Shop at 251-964-7165.